Entrepreneur-in-Residence
Main Content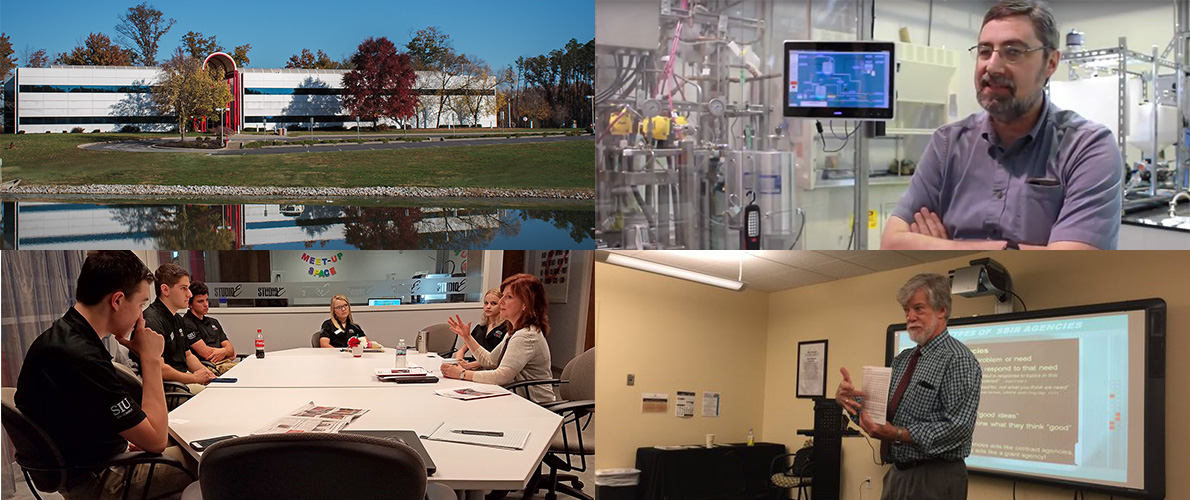 The Office of Economic and Regional Development has created an Entrepreneur-in-Residence (EIR) Program to build upon existing regional entrepreneurship services.
Program Description - Launched in 2017, the EIR Program strengthens current programs while further developing innovation resources for the regional entrepreneurship ecosystem. The program offers collaboration opportunities and resources for high growth startup companies, university technology spin-offs, and regional innovation enterprises. The EIR Program's purpose is to increase employment opportunities, promote innovation and bridge current innovation gaps, offer strong mentoring and management support, and improve access to capital investments by tapping into the knowledge base of experienced EIRs.
Program Stakeholders - The EIR program is funded by a grant from the U.S. Delta Regional Authority, an investment by the Southern Illinois Research Park, Inc., and is directed by the SIU Office of Economic and Regional Development. Greater Egypt Regional Planning and Development Commission serves as the program administrative agent.
ROLE OF ENTREPRENEURS-IN-RESIDENCE
Entrepreneurs-in-Residence work with faculty, alumni and high-potential community businesses offering training, speaking engagements, and one-on-one advisement. EIRs assist entrepreneurs in expanding their businesses and minimizing start-up obstacles. Roles and responsibilities of EIRs include:
Refine business models and strategies
Develop branding and marketing tactics
Prototype and product development
Protect and commercialize technologies
Evaluate vital funding needs
Assemble the ultimate team
Complete technology assessments
Conduct market assessments
Coach/mentor one-on-one
Develop investor presentations
Create one-page business plan executive summaries
BENEFITS TO ENTREPRENEURS
SIU faculty, alumni and regional businesses not only benefit from EIRs' expertise, in addition, they are able to take advantage of networking opportunities, build long-term relationships, foster strategic business outcomes, create more exposure and accelerate their pathway to success.
Meet the Team
Meet the Team
Entrepreneur-in-Residence
Summary

Steve Bost

Transactional Law

Steve Bost has a long history with southern Illinois.  Between attending Murphysboro schools and Southern Illinois University, and being a fourth-generation Murphysboro business owner, Steve offers a unique insight into the legal aspects of regional business development. 

Steve, a Marine officer, spent seven years advocating on behalf of Marines, Sailors, and Soldiers around the world, from Yuma, Arizona to Al Taqaddum, Iraq. He also advised generals and commanders throughout the Marine Corps and the Pentagon.  Steve continues to serve in the United States Marine Corps Reserve.  

Steve's legal practice serves both large and small employers in Jackson County.  He enjoys meeting folks with an entrepreneurial spirit and assisting creative and gifted people in crafting legal solutions for their business goals.  His practice specialties include municipal and administrative law, employment law, business formation and general counsel, estate planning, probate and estate administration, and real estate law. 

Jim Greenwood

Federal Research Grants

Jim Greenwood formed Greenwood Consulting Group, Inc. (GCGI) with his wife in 1996 after many years of operating small consulting, training, and data processing businesses under a host of other names. Jim started his first consulting business while still a graduate student at Harvard University. He has extensive experience in working with small and startup businesses. Two areas in which he has significant expertise are in developing and managing small business incubators and assisting small firms in competing for part of the $2 billion plus Small Business Innovation Research (SBIR) and Small Business Technology Transfer (STTR) programs. He also has managed a Small Business Development Center (SBDC), in which he counseled and trained literally hundreds of prospective entrepreneurs and small business owners and managers. He has worked with several Federal Laboratories in their technology transfer programs, particularly as those efforts apply to small business and Federal Lab employees seeking to spin off new firms around technology. Greenwood is currently under contract with several major universities to help their faculty compete for SBIR and STTR funding, either as entrepreneurs or as subcontractors and consultants to proposing companies.

Bridget Lescelius

Marketing

Bridget Lescelius has over 30 years of marketing and advertising experience, working with a range of clients, from small businesses to Fortune 500 companies. She is a vice president at Spark, a marketing agency specializing in providing services to technology clients, providing the development and execution of marketing plans and programs for clients. In addition, she serves as an instructor of advertising at Southern Illinois University. Bridget started her career in Washington, D.C. working at a leading business to business advertising agency. She also held marketing positions at the Institute for Supply Management based in Tempe, Arizona. A native of Illinois, Bridget earned her B.S. in Radio-TV/Journalism from Southern Illinois University, an M.S. in Public Relations from Boston University, and an MBA from Virginia Polytechnic and State University.

Karin O'Connor

Business Strategy

Karin O'Connor serves as Clinical Assistant Professor at Northwestern University's Kellogg School of Management, where she teaches the school's "New Venture Launch" and "Growth Strategy Practicum" courses and leads programming related to Kellogg's Growth & Scaling initiative.

Karin is founder of Chicago-based Perimeter Advisors, a firm that assists owners of promising mid-market companies with planning and execution of value enhancement strategies.  She is also an active investor in early- and growth-stage companies and is a Venture Partner at Serra Ventures, a Champaign, IL-based venture capital firm.

From 2011 until 2014, Karin served as Managing Director of Hyde Park Angles, Chicago's largest angel investor network.  She invested in fifteen companies with the group and served as HPA's representative on the boards of portfolio companies FeeFighters, which was acquired by Groupon, Inc. in 2012 and Moxie Jean, which was acquired by Schoola in 2015. 

Karin received her BA in Finance from the University of Illinois, where she graduated magna cum laude and was elected to Phi Beta Kappa.  She earned her MBA from Kellogg, where she was an F.C. Austin Scholar and was elected to Beta Gamma Sigma.  Karin received a CFA (Chartered Financial Analyst) charter in 2007.

James Stapleton

B2B, B2C Software

Dr. Stapleton is a nationally recognized entrepreneurship educator, coach and customer development expert for creative and technical companies. In 2016 he co-founded carGO, a transportation network company that provides on-demand ridesharing and delivery services in micropolitan regions. carGO was launched in Cape Girardeau, Missouri with plans to scale to dozens of markets in the next 2 years. Dr. Stapleton also is cofounder of Conflux, a predictive customer behavior and loyalty platform that utilizes innovative proximity and analytic tools to drive customer engagement and growth. He co-founded Codefi, a co-working business center in 2014. Codefi has supported 23 technology-based startups that have created over 60 jobs and attracted over $3 million in private and public investment. Codefi has over 170 members representing 74 companies and occupies nearly 13,000 sf in the new Marquette Tower. Dr Stapleton also co-founded the Marquette Tech District and is Executive Director of the Marquette Tech District Foundation. The district is a regional innovation hub integrated into Cape Girardeau's historic downtown in 2016, through a 25+ million historic development project that includes the renovation of over 145,000 square feet of tech-powered office space, a new private/public fiber optic network, restaurants, and a Marriott Courtyard hotel.